Pickering's 1947 Gin 1 Litre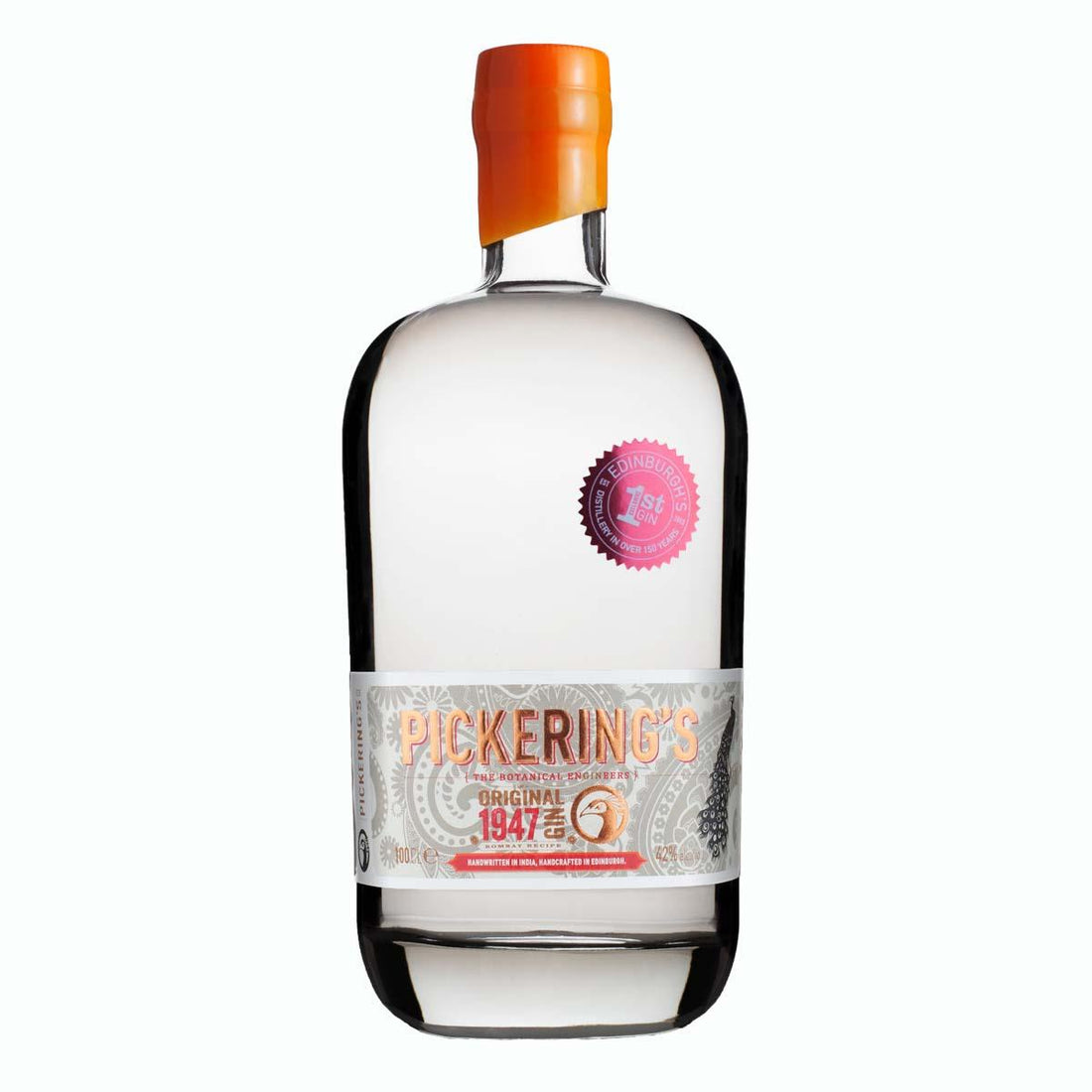 Pickering's 1947 Gin 1 Litre
42% ABV.
Tasting Notes
The original recipe gave us a Gin full of fragrant spices and fresh citrus fruits – just the way they liked it in the days of the Raj. With notes of Cardamom, coriander, clove and cinnamon spice leading to a crisp, refreshing and long finish.
Signature Botanical Mix
The cinnamon in our 1947 expression has a sweet warmth that's absolutely characteristic of an authentic Bombay style Gin. This paired with our blend of juniper, coriander, cardamom, fennel, anise, lemon, lime & cloves creates this one off a kind dry Gin.
Hand-Crafted
Our small hand-built distillery is in the heart of Edinburgh within the former University Veterinary School, where our founders built from scratch our award winning distillery in the old dog kennels.
Recipe From Bombay 1947
The recipe that started it all was scrawled on a piece of paper dated 17 July 1947. Kept as a family secret handed through generations since the last days of the Raj, this recipe resurfaced only in 2013 after 66 years when Marcus Pickering & Matt Gammell built Summerhall Distillery & began distilling the first batches of Pickering's Gin!
While our flagship 'Red Top' was adapted from this recipe to a more modern palate, our 'Orange Top' remains unchanged from this classic recipe!

Award Winning Dry Gin
Classic G&T
Fill a hi-ball or Gin goblet with ice. Add 50ml of Gin and 150ml of light tonic water. Garnish with a slice of fresh orange.
Corpse Reviver No.2
25ml Pickering's 1947 Gin
25ml Lillet Blanc
25ml Orange Liqueur
25ml Lemon Juice
Absinthe to rinse

Method: Rinse the inside of a chilled cocktail coupe with Absinthe, discard the rest and set aside your glass. Add all other ingredients into a cocktail shaker and shake vigorously for 15 seconds. Strain into the prepared glass and garnish with an orange peel.
Tom Collins
60ml Pickering's 1947 Gin
22.5ml Lemon Juice
22.5ml Sugar Syrup
Top with Soda Water
Garnish with Lemon wedge

Method: Put all ingredients except from the soda water into a shaker. Add ice and shake vigorously for 10 seconds. Add ice to your highball glass and strain the cocktail over ice. Top with Soda Water and garnish with fresh lemon wedge.
Looking for a different Gin?
At Pickering's we offer a variety of London Dry, Navy Strength and unique Flavoured Gin!
Discover More