Pickering's Navy Strength Gin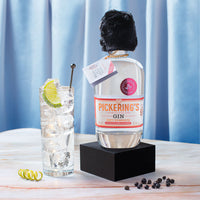 Pickering's Navy Strength Gin
57.1% ABV. // 70cl
Tasting Notes
Smooth, clean and powerful. The higher alcoholic strength brings out the sweeter botanicals in our Bombay recipe, like cardamom, anise and fennel with initial juniper notes and aromatic spice flavours leading to a delicious sweetness.
Signature Botanical Mix
Bottled at 57.1% for a pinch more punch, our Navy Strength is a staple of our core range. With the same unique botanical mix as our flagship 'Red Top' demonstrates the power of percentage.
Hand-Crafted
Each and every bottle of this classic Gin has been hand distilled, filled, corked and labelled in our truly one of a kind 400 sq. ft. distillery built in the ruins of the old Edinburgh vet school's kennels.
The Royal Edinburgh Military Tattoo
Affectionately known as the bearskin Gin, we released this expression to celebrate becoming The Official Gin of The Royal Edinburgh Military Tattoo.

Given the strength of this Gin, it makes for a powerful G&T, a delicious martini or stands up very well in most classic Gin cocktails.

Award Winning Dry Gin
The Navy's G&T
Fill a hi-ball or a Pickering's Gin Goblet with ice.
Add 50ml of gin and 150ml of tonic, and a big squeeze of fresh lime
Garnish with the slice of lime & enjoy responsibly
Navy Negroni
25ml Pickering's Navy Strength Gin
25ml Campari
25ml Martini Rosso

Method: Pour the Gin, Campari and Martini Rosso into a mixing glass filled with ice. Stir well until the outside of the glass feels cold. Strain into a tumbler glass and add a large ice cube. Garnish with an orange peel.
Navy Martini
50ml Pickering's Navy Strength Gin
10ml Dry Vermouth

Method: Put the Gin and Vermouth into a mixing glass filled with ice. Stir with a mixing spoon and then taste with to check dilution. If needed, stir until the martini is diluted to your liking. Strained into a chilled martini glass and enjoy!
Looking for a different Gin?
At Pickering's we offer a variety of London Dry, Navy Strength and unique Flavoured Gin!
Discover More